Mary Riner is the Director of Community Outreach for BASIS Independent McLean and current BASIS.ed parent. For this piece, Ms. Riner shines a light into her past as a "helicopter parent" and what has happened since her family joined the BASIS.ed Network. Read below for more of Ms. Riner's insight.
Notes from the BASIS.ed Braintrust
I am a recovering helicopter parent. I admit that the CJ, or Communication Journal, as a way of interfacing with the school takes a little getting used to, especially if you're accustomed to online homework postings where your child's whole education is at your fingertips. Those online systems make you feel in control. With a push or a prod, you can motivate your child into doing his homework so that he can boost his 88 average in English up to a 95.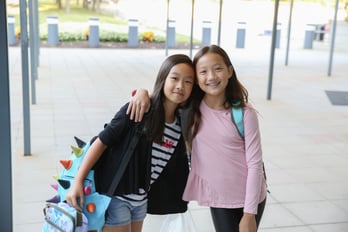 But here's the thing. The 95 you worked so hard to get for your child doesn't really last. This is not your child's 95. My insight comes from years of hovering. I spent hours every day after school struggling with my first child over homework. Our science fair projects won every competition. Our essays and short stories were nothing short of masterpieces. My child was the king of his elementary school. I was so proud.
The moment I became a BASIS.ed parent, however, co-founder Olga Block told me, "Mary, your days of helicopter parenting are over. Let it go." Letting go is the hardest thing to do as a parent because you want the very best for your children. You know life will be that much harder if they don't do well in school.
Olga's advice to "let go" was so fundamentally important to my child's education. Real learning, the kind that feels good inside, the kind that is intrinsically valuable, comes from sweat equity, from hard work, and making mistakes, lots of mistakes. It comes from failure. It comes from us as parents letting go.

The transition to a BASIS.ed school usually takes a few months for students (It can be longer for us parents who are not so used to change). But do your best to follow Olga's advice. Let go and let your kids figure it out. Let them get their first B- or miss a homework assignment. Watch what happens a few weeks later when they start to get in the groove.
Yesterday when I got home, my BASIS.ed fif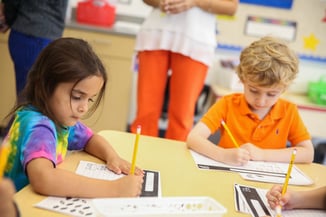 th grader greeted me at the door with an
exclamation. "Mom!" he shouted. He was so excited. "Mom! I get it! At my old school, when I would get home from school and finish my homework, it would just be an ordinary day, like nothing happened. But now I feel like I accomplished something. It was hard at first. My grades might not be so great this first grading period, and that's okay because I'm getting better. It's like 'one small step for man and one giant step for mankind' or whatever. You know what I'm trying to say."
Yes, I do. You can't hover your way into achieving this kind of self-satisfaction for your child. This is the kind of satisfaction that comes from being a BASIS.ed student, knowing that everything you have achieved, you have achieved on your own, with no help from your parents. This is why Communication Journals exist and homework listed online doesn't. This is what happens when students take responsibility for their own learning.
Join us at our upcoming Open House or tour BASIS Independent Brooklyn to learn more about how we are helping our students to gain independence and responsibility for their education.